Meet The Team at Termé Studios Photography
Hi, my name is Shabnam, owner and lead photographer at Termé Studios Photography. You can call me Shaby!
I am a wedding photographer based in Boston Metrowest area and serving all over New England and beyond.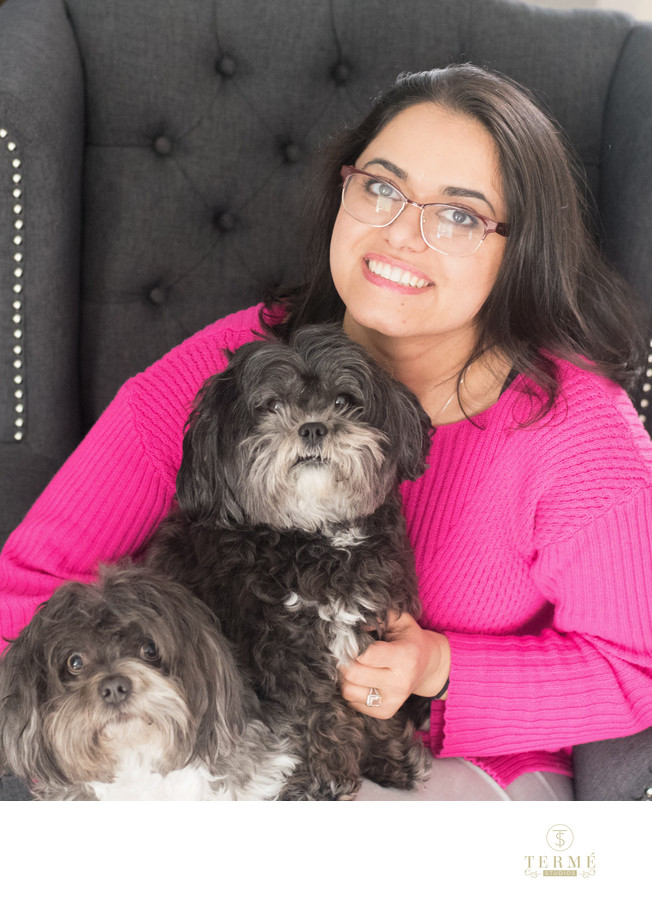 (this is me, the girl behind the camera and these two are my fur babies, Saffron and Duman)
---
On an average day, when I am not with my clients, I am curled up on my office chair editing or responding to client emails while sipping a cup of coffee (or two, probably) with my dogs Saffron and Duman close by, usually rivaling for sitting on my lap.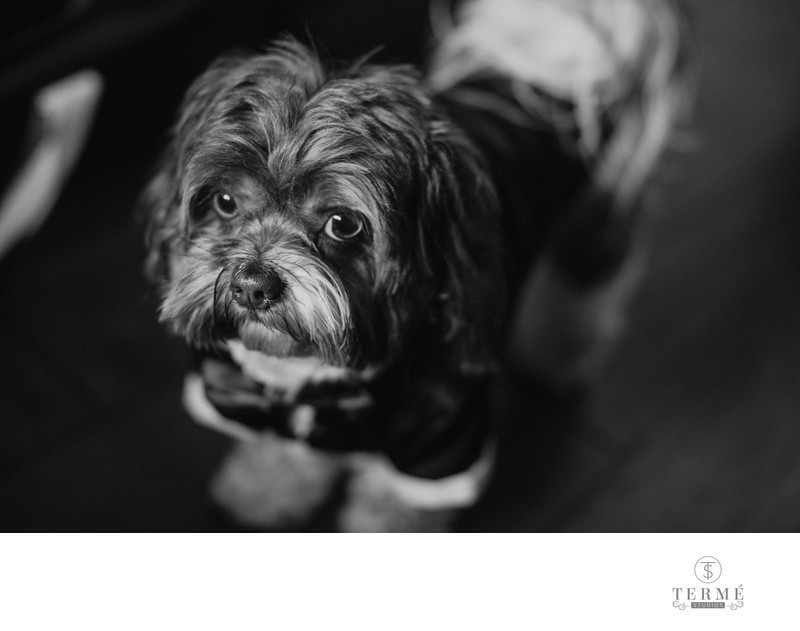 ( This is Duman. He has the most beautiful eyes, hazel-ish green, like a nebula, hence his Turkish name which is pronounced Doo-Ma'an and it actually means nebula)
Saffron is the quiet one who lets me work and Duman is the one that does not get tired of playing fetch with anything round, whether it be a tennis ball or anything else (Yup, even round foods, treats and fruits). These two little fur balls make me feel like I am the luckiest pooch mom ever. If you love dogs crazily and deeply and have an uncontrollable innate urge to say hi to every dog you see, then I am sure we could be friends!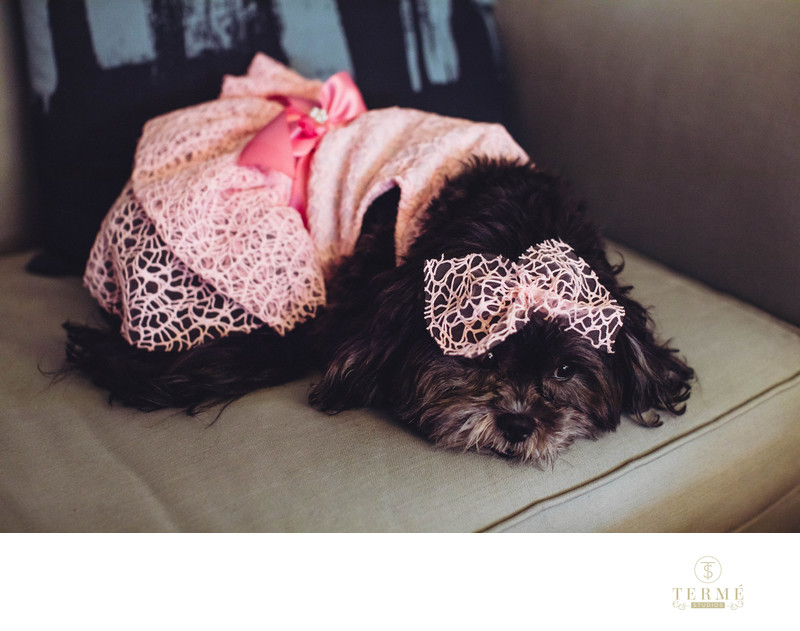 (This is Saffron, she is sweet, patient and full of love. Her doggy hugs are just purely addictive and therapeutic. I am sure you will fall in love if you meet her and would never want to let her go)
---
I am also a wife to the cutest nerdy guy alive, Aden, who is my photo-assistant for almost everything. We got married in April 2018. He usually works along side me on your wedding day as my assistant or my second shooter. He is an engineer by profession so needless to say he definitely is in charge of all the technical side of our photography business when it comes to setting up lighting for your portraiture, and ensuring all your images are backed up after each wedding.
He is my rock and it would be impossible to make a smooth workflow for our clients without him!

(This is us on our wedding day)
---
I LOVE MY JOB ( I know everyone probably says that)
Photography is not just a job for me it is my passion. As a photographer there is nothing more meaningful to me than the ability to tell my clients' love stories in the most unique imagery possible. I am inspired by natural light and expressions of joy. I am also comfortable with creating aritificial light using an arsenal of lighting equipment when the natural light on your wedding day is less than ideal!
I believe that the wedding photographs are a couple's very first family heirlooms and my priority at each wedding is to capture the day in a creative way so that it can be relived and experienced over and over again. To do this, I will stop at absolutely nothing to capture your day in the most meaningful and creative way possible.
Here are a few behind the scene photos of me working!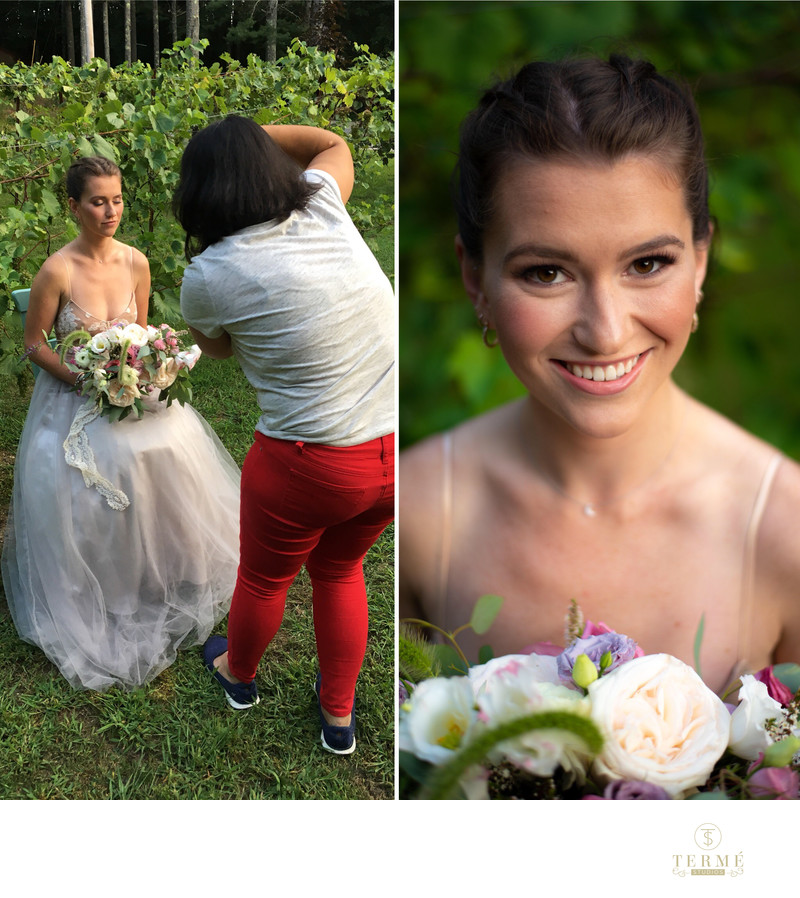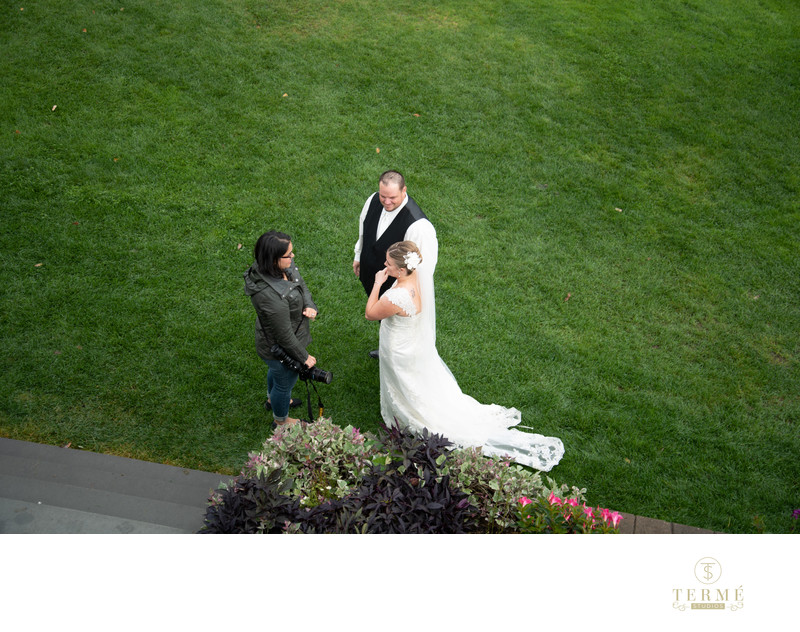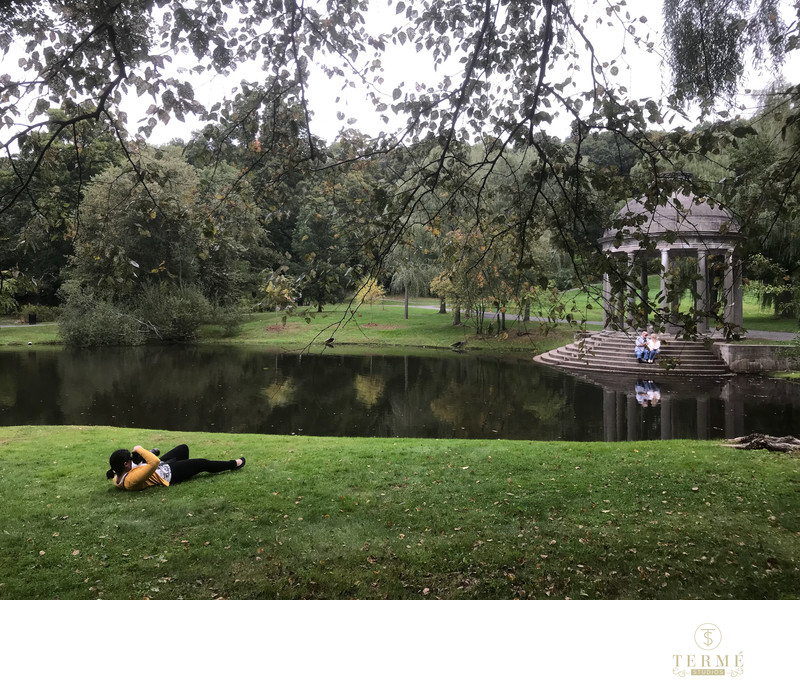 ( yup! without a doubt you will find me in some odd position trying to get the right shot in your wedding day or during your engagement session)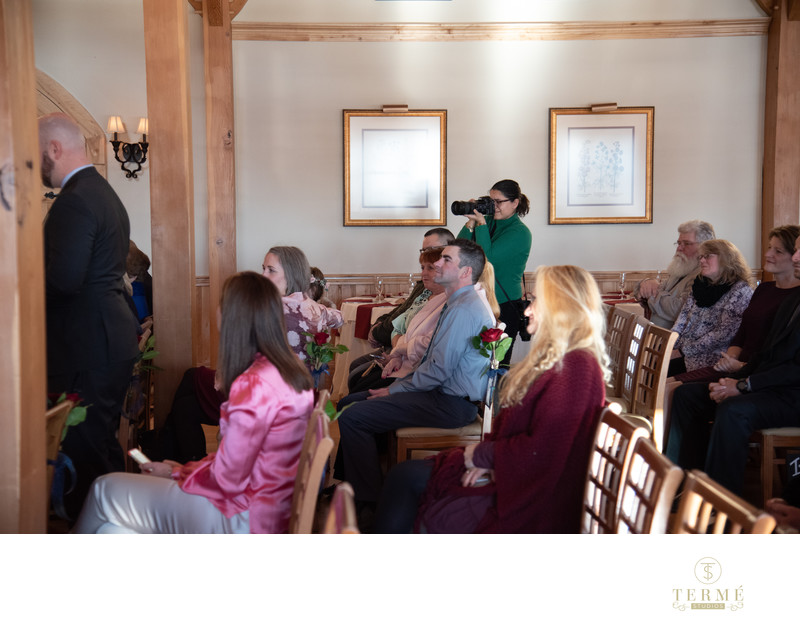 ( I strive to be as unobtrusive as possible during your ceremony; here I am using a long lens to capture those subtle eye contacts and smiles without getting up and close and distracting the guests.)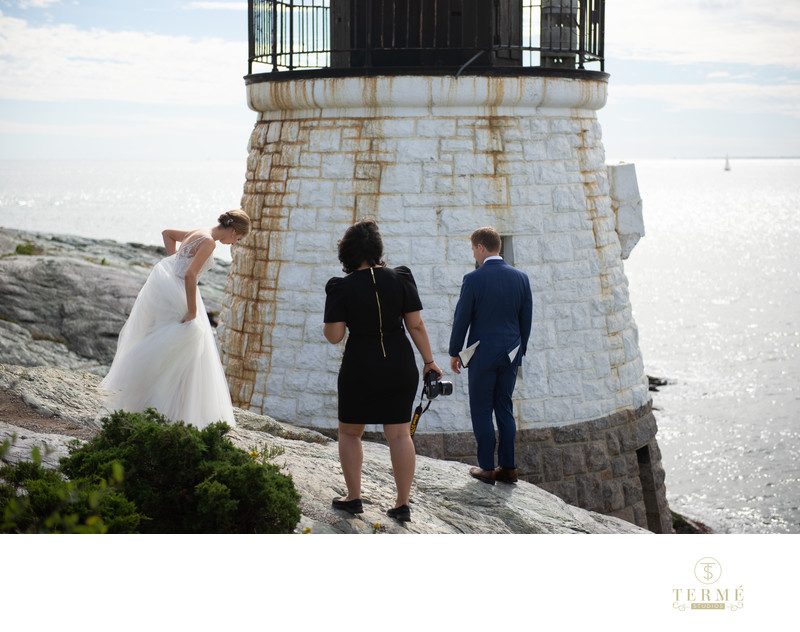 (I stop at absolutely nothing to make sure I get the shot)
---
Wedding Day Behind the Scenes
I realize that I do things during the wedding day may seem a bit odd to people who do not understand me. I work diligently before the wedding to establish trust with my couples and their families. However, wedding guest may not be as familiar with my wedding day workflow and may even look confused as they watch me as I try to create the most beautiful imagery for your wedding day. I do things like shutting off all the lights in the room that you are getting ready in, or holding my phone, fairy lights or a prism up to my camera while doing your portraits. Without a doubt you will find me laying down on wet grass, stand in a puddle of mud or lay facedown while you are getting ready ( yeah weird stuff!!) trying to get the right angle for the shut I am envisioning for a scene.
Like that one time, that I went around the reception tables to pick a little dinosaurs figurine that bride and groom had incorporated into their table centerpieces and used it to photograph the bride and groom's rings. I did this to incorporate the photo of their wedding rings with the details of their reception décor in a meaningful way.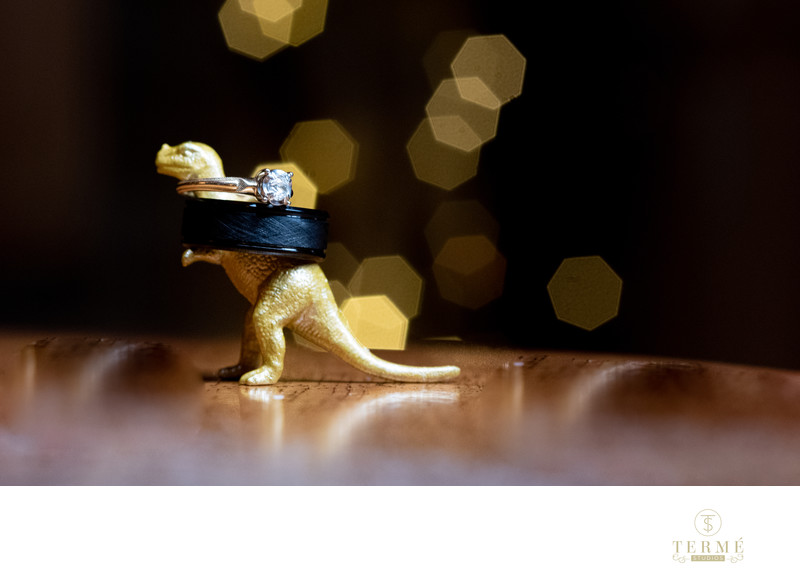 I could only imaging the faces of the wedding guests when they watched me "sneak the little dinosaurs off the tables". If you see me doing all kind of weird things during your wedding day like this, please know that I am just being me, trying to create something amazing for your wedding photo gallery
---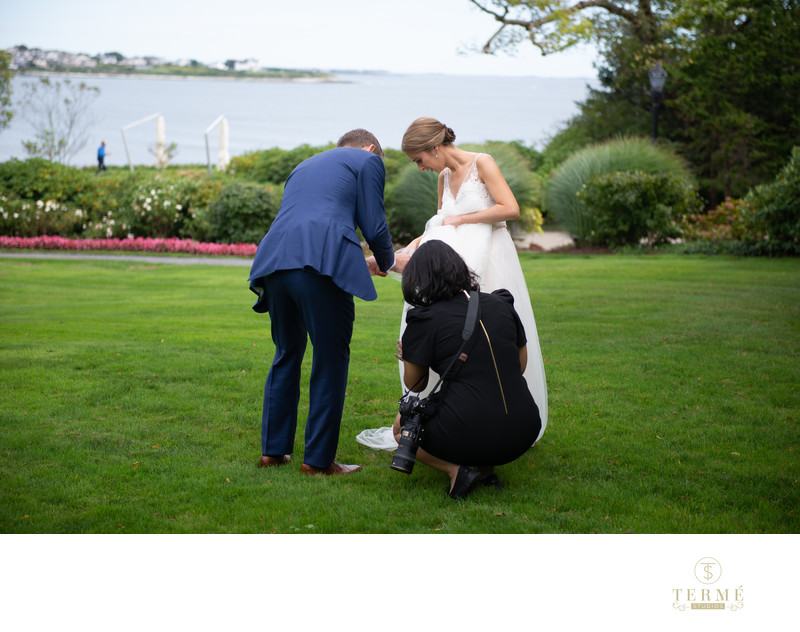 (here,I am helping to pick out the fall leaves from the bride's dress! I wear many hats on your wedding day, one is being your personal assistant, making sure you always look your best at all times)
---
I am based in Boston South Shore, but work throughout New England, frequent the Greater Boston area, and am available nationwide. World travel is available dependent on the ability to attain a visa.
Let's grab a cup of coffee or beer. I would love to hear about your wonderful lives and how we could tell that story together through images. You can reach me via the contact form .
( Photo credit for those that are not mine: my very talented husband and Jeniffer Lamey and Lauren Dobish)